Champion Concludes Solid State Spark Gap (S3G) Development Program
LIBERTY, SC– (September 9, 2016) – Champion concluded a self-funded 205,000 cumulative hour, 1 billion spark Technology Readiness and Reliability Demonstration Program for its Solid State Spark Gap design (S3G)*. The S3G design concept was developed in 2013 as a "Plug and Play" device to replace traditional radiation bearing mechanical Spark Gaps in existing or future designs. The S3G Module is a fully solid state device configurable for highly controlled switching voltages (+/- 2% variance) in a board or single substrate mounted configuration. Traditional radiation bearing Spark Gaps can have +/- 10% switching voltage variance during manufacturing. The S3G module improves system electrical efficiency, life, performance and reliability in an environmentally friendly package. Unlike the radiation bearing traditional mechanical Spark Gap design, the S3G Module has no comparable wear out mechanism. The device utilizes an advanced Champion developed solid state switch that can reliably switch controlled low or high energy discharges (>10 Joule) with minimal heat generation as compared to a traditional Spark Gap. The S3G Module is very similar in size/weight to the traditional Spark Gap and can be potted for optimal thermal and vibration protection for its virtually limitless installed lifetime.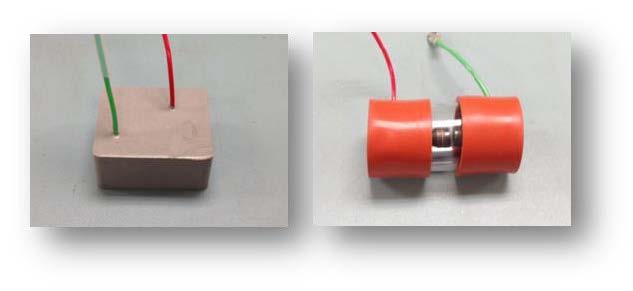 Testing of the highest voltage S3G Module configuration demonstrated a 173 million spark Mean Time to Failure (MTTF) at a continuous environmental temperature of 121°C. This achievement greatly exceeds the MTTF of a traditional Spark Gap design. It should be noted that the 173 million spark MTTF was influenced by Champion defining that the calibrated switching voltage could only vary +/- 6% during the entire test period. A MTTF of 173 million sparks equates to about 24,000 exciter sparking hours or 480,500 engine hours at a 5% duty cycle and a spark rate of 2 sparks per second. Additionally, Champion's advanced solid state switch, the heart of the S3G Module, demonstrated a MTTF of 3.3 billion sparks. Other key common components of the high voltage output section used within many Champion's exciter designs also demonstrated MTTFs in excess of 3.3 Billion sparks during the effort. Refer to the Weibull Plot to estimate the Reliability/Unreliability of the S3G for an expected number of discharge events. Champion has already successfully introduced the S3G into Aerospace and Industrial Gas Turbine Ignition System designs.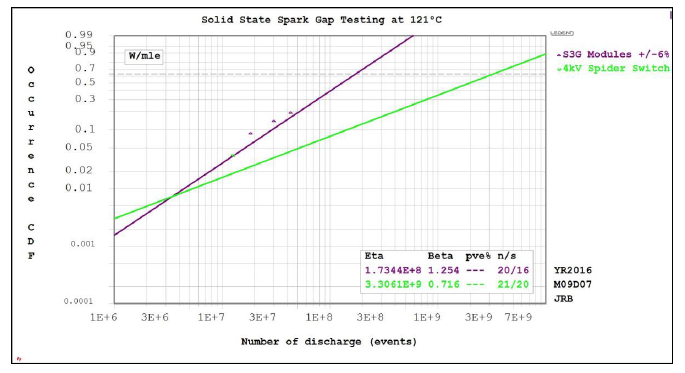 Champion developed its first solid state ignition systems in the mid-1990s and continues to pioneer highly engineered and reliable solutions for the aerospace industry's evolving and demanding requirements. Tom Fleetwood, Champion Aerospace's Director of Engineering noted, "Champion's engineering strategy recognizes the importance of aligning its technology and product roadmaps to that of its customers to set the conditions for shared achievement of short and long term goals."
*Patent/Trademark Pending
About Champion Aerospace
Champion Aerospace LLC, a wholly owned subsidiary of TransDigm Group (NYSE:TDG), is a leading global designer, producer and supplier of aircraft ignition system technology and airframe power solutions for use on nearly all commercial, piston and military aircraft in service today. Champion ignition components powered the Wright brothers first powered flight in 1903 and have continued to power the skies ever since.
Liberty, SC– Since the introduction of the National Aeronautics and Space Act in 2010 and more recently the US Government initiative to replace the Russian RD-180 Rocket engine on the Atlas V launch vehicle with an American made engine, Champion has realized an increased interest in use of its ignition system solutions for space applications. Champion is developing solutions to meet challenges in pressure and varying fuels used in space travel. Many pedigreed space ignition system solutions use legacy ignition system technology and Champion seeks to provide higher pressure capable and more reliable ignition system designs for future space applications in propulsion engines or reaction control system thrusters.
Additionally, re-usable launch systems increase the need for reliable and common ignition system solutions that can be leveraged across multiple programs. Tom Fleetwood, Director of Engineering at Champion Aerospace adds "Champion not only takes a business approach to these opportunities, but also a nationalistic approach to support the United States and its Strategic Partners in achievement of their space exploration goals and objectives."
Champion Aerospace has and continues to support or develop space rated ignition systems and components within the space community with organizations that include: Aerojet-Rocketdyne (Was separately Aerojet and Pratt & Whitney Rocketdyne), Blue Origin, NASA, Orion Propulsion, Roush, Tethers Unlimited, and Wask Engineering. Much of the new activity is evolving around high pressure capable spark igniter solutions for new propulsion applications as well as critical legacy application support for manned space travel. Champion small device technology recently supported NASA's first 3D printed demonstrator engine in 2015 as the need for lower cost solutions for engine hardware continues.
Champion Aerospace LLC, a wholly owned subsidiary of TransDigm Group (NYSE:TDG), is a leading global designer, producer and supplier of aircraft ignition system technology and airframe power solutions for use on nearly all commercial, piston and military aircraft in service today. Champion ignition components powered the Wright brothers first powered flight in 1903 and have continued to power the skies ever since.
GREENVILLE, S.C. – "I have often heard about Amelia Earhart's visits to Anderson and Spartanburg, but who knew that she had come to Greenville!" stated Joe Frasher, who has been the Airport Director of the Greenville Downtown Airport for over 33 years.
When Greenville Chautauqua decided to bring "Amelia Earhart" to their June 2016 History Alive Festival, they asked Lara Kaufmann, Public Relations Director of the Downtown Airport to present a discussion on Amelia and women in aviation. In preparing for this talk, 84-year-old Greenville News articles were discovered in the South Carolina Room at the Hughes Main Library in Downtown Greenville. They told of a trip that Amelia Earhart made here during the weekend of November 12-14, 1931. The same weekend that Greenville was celebrating its Centennial. The stories recorded her luncheon at the Poinsett Hotel and demonstration flights at the Downtown Airport, then called the Greenville Municipal Airport. "Miss Amelia Earhart set the first autogiro ever to stop in Greenville down at the local flying field yesterday afternoon as approximately 4,000 persons looked on. She brought the awkward-looking windmill ship down to earth almost vertically… The world-known Miss Earhart, first woman to fly the stormy Atlantic is flying the autogyro along a route of Southern cities for the Beech Nut Products concern… She will speak at a Dutch luncheon at the Poinsett hotel…" one article reads.
Amelia's flying adventures were covered by media all over the world, including our very own Greenville News, which has been writing about Greenville since 1874. In articles, and in the three books that she wrote, she spoke of visions from the air that most people had never seen… clouds, landscapes, vast views of terrain, cities, shore lines and sunsets as well as flying adventures, women's issues and advertising.
"This surprising find led to a fun discussion. Since Greenville Chautauqua strives to bring history to life, through interactive theater, by bringing voices from the past to celebrate our history… why not sort of recreate and celebrate her visit to our community!" stated Caroline McIntyre, Greenville Chautauqua's Administrator and Media Contact.
After hearing about the fun and educational experience that was being created, so many organizations have lined up to help. Triple Tree Aerodrome is supplying a 1929 Golden Eagle Chief – one of only two known to be still flying in the world – for Amelia's arrival. The Upcountry History Museum and Greenville Chautauqua will have Amelia Earhart stories and 1930's Greenville photos on display in the Runway Cafe's hangar. Volunteers from Chautauqua will host 1930's games and a 1930's costume contest with prizes donated by local businesses. Vintage cars from the owners of White Horse Flea Market will be on display. Maserati Lotus Greenville is supplying a 1930's vintage auto that will take Amelia to lunch at the Poinsett Hotel where Centre Stage's "Sisters of Swing" will entertain.
"Come out to the airport for a free event to hear more of her great life!" invited Frasher. Want to come?
Free Events at the Greenville Downtown Airport: – Runway Park at Greenville Downtown Airport, 21 Airport Rd Ext, Greenville, SC 29607
10am – Runway Cafe's hangar will have historical displays of Greenville, 1930's games, vintage cars and a 1930's (or Amelia Earhart look alike) costume contest.
11am – "Amelia Earhart" will land outside the Runway Cafe in the 1929 Gold Eagle Chief (weather permitting). She will greet and interact with the crowd. She will then be whisked away in a vintage car to a luncheon at the Poinsett Hotel.
"Lunch with Amelia" in Poinsett Hotel Ballroom – Poinsett Hotel, 120 S. Main St, Greenville, SC 29601
12 noon – Lunch at Poinsett Hotel. Performance by Chautauqua Historical Interpreter Leslie Goddard as Amelia Earhart with a sneak preview of Centre Stage's "Sisters of Swing." Tickets for "Lunch with Amelia" are $30 and must be purchased in advance. No tickets sold at the door. Call 864-244-1499 for reservations.
Event Sponsors include: Greenville Downtown Airport, Runway Cafe, Westin Poinsett Hotel, Maserati Lotus Greenville, Upcountry History Museum, Centre Stage, Pepsi, Lockheed Martin, Champion Aerospace, White Horse Flea Market, Duke's Mayonnaise and C. F. Sauer Company.
Leslie Goddard (Amelia Earhart) – from Chicago, IL
Goddard holds a Ph.D. from Northwestern University, specializing in U.S. history, American studies and women's history, as well as master's degrees in theater and in museum studies. She is an award-winning actress and scholar who has portrayed famous women in history for more than ten years. She presents more than 250 programs a year, and has performed in 15 states. Many will remember her portrayals of Betty Davis and Mark Pickford for Chautauqua in Greenville, Spartanburg and Asheville. She is the author of two history books. She is also a former speaker with the Illinois Humanities Council's Road Scholars program and currently serves on the executive committees of both the Chicago Civil War Roundtable and the Illinois State Historical Society. While not a licensed pilot herself, she has taken flying lessons and is happy to remain earth-bound. www.lesliegoddard.info
For more information please visit greenvillechautauqua.org or contact Caroline McIntyre at caroline@greenvilleCHAUTAUQUA.org or 864.244.1499 office / 864.360.7500 cell
LIBERTY, SC, February 9, 2016 – Champion Aerospace will be hosting an Airshow and Fly-In at its world headquarters in Liberty, South Carolina on Oct 5, 2016 with the rain date being the following day, October 6, 2016.

Jason Marlin, President of Champion Aerospace adds "Champion Aerospace has a long airshow history, however this is the first time that we have invited all Champion customers to fly in and see first-hand how the world's best aviation ignition system components are manufactured right here in the USA. We look forward to sharing a fabulous fall day of thrilling performances and attractions with our employees, customers, distribution partners, and guests. We are happy to be able to host this event at our headquarters in Liberty so that our employees and the local community can participate in what should be a great event. The airshow will begin at 4 PM and conclude at sunset and be headlined by performances by some of the top Aerosport figures in the business.

The event will also host many exhibits and attractions including Autograph sessions with aerosport celebrity pilots, James Richard Racing as well as games for children. You can also learn (and see) how Champion Aerospace products are developed, manufactured and tested by taking a Champion Aerospace plant tour. Please visit the Champion Aerospace website at www.championaerospace.com/airshow-fly-in to register for the event, as well as find information on nearby hotels, airports and attractions.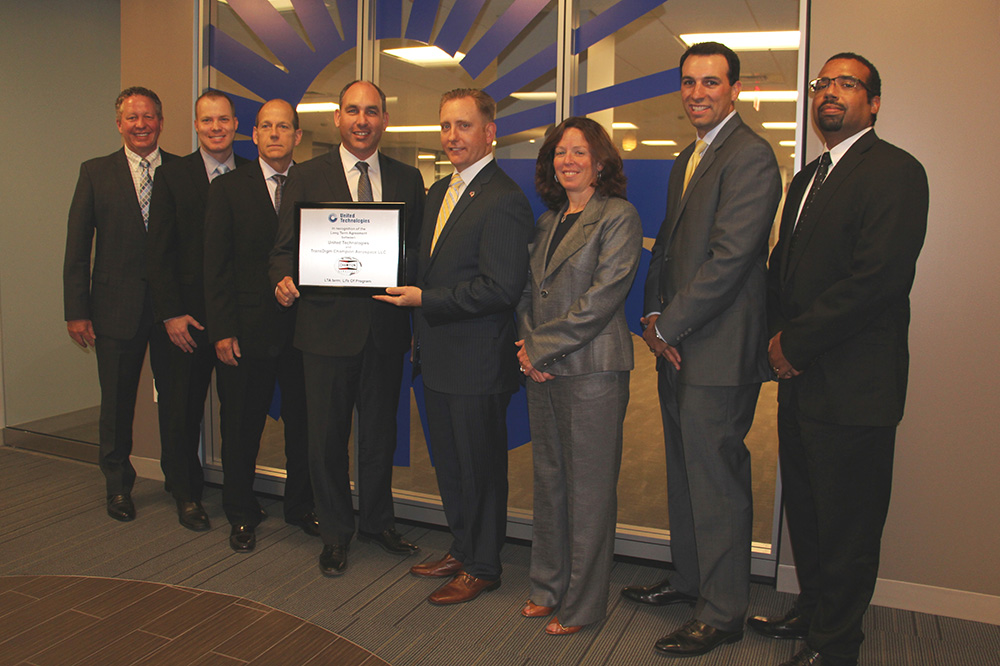 FARMINGTON, Conn., Sept. 2, 2015 —Champion Aerospace LLC and United Technologies Corp. (NYSE:UTX) today announced that they have finalized Life of Program long-term supply agreements to support production at UTC's aerospace businesses.

The UTV2 long-term supply agreements secure Life of Program contracts for exciters, ignition leads and igniters required by UTC primarily at UTC Aerospace Systems on many programs including Embraer E-Jets E2, Airbus A320neo, Bombardier C Series, Mitsubishi MRJ, F-35 Lightning II and many Pratt & Whitney Canada engines and APUs. These agreements position Champion Aerospace as one of UTC's preferred sources for ignition systems components globally.

"Champion Aerospace is very proud to continue our long term partnership with United Technologies for the ignition system on the PurePower® family of engines," said Jason Marlin, President, Champion Aerospace. "UTC's aerospace technologies are game changers for the industry, which is something that Champion Aerospace is honored to be part of. Our performance has helped assure that we are a part of this future."

In addition to signing long-term agreements, Champion Aerospace is actively engaged in the UTC Supplier Gold program and has set a goal of achieving Certified Gold status within the next 24 months. Champion Aerospace has also committed to the UTV2 cost-savings initiative and UTC contractual Governance program, which sets high standards for quality and on time delivery.

"We are very pleased to announce these Life of Program agreements with Champion Aerospace and commend them for their commitment to meeting UTC's high standards for quality and performance while ensuring cost competitiveness," said Sam Abdelmalek, Vice President, Global Supply Management and Integration, United Technologies. "UTC's aerospace businesses are well-positioned for growth over the coming years. Suppliers like Champion Aerospace, who commit to our contractual governance standards, meet our demanding performance requirements by committing to Supplier Gold and satisfy our UTV2 cost-savings initiatives, will have the opportunity to share in this growth for years to come."

Champion Aerospace LLC, a wholly owned subsidiary of TransDigm Group (NYSE:TDG), is a leading global designer, producer and supplier of aircraft ignition system technology and airframe power solutions for use on nearly all commercial, piston and military aircraft in service today. Champion ignition components powered the Wright brothers first powered flight in 1903 and have continued to power the skies ever since.

United Technologies Corp., based in Farmington, Connecticut, provides high-technology systems and services to the building and aerospace industries. To learn more about UTC, visit the website at www.utc.com or follow the company on Twitter: @UTC.

Download the Press Release PDF
Liberty, SC– Champion Aerospace, LLC, the world's leader in high-performance aerospace engine ignition technology, has unveiled a new corporate logo and website. Champion Aerospace has created a new brand identity to reflect the spirit of the company and the changes of the aerospace industry that is constantly moving forward.
"The new branding is intended to readily communicate Champion's value proposition of providing exceptional products and world-class services to its aviation partners and technicians," said Chris Alfonso, Director of Sales and Marketing.
To introduce the new branding, Champion Aerospace is launching an all-new website on Monday, July 13, 2015, which has been designed to make it easier for their customers, distributors, and employees to access vital and current information about Champion Aerospace's products and technologies.
The new website has in-depth technical information on piston and turbine ignition products and provides vast technical support for aviation technicians in both the piston and turbine categories. "The new site gives us the ability to provide timely communications and updates on new products and services available from Champion Aerospace," Alfonso said.
Champion Aerospace's new online face includes increased functionality and ease of navigation. The new website has secure portals specific to Champion Aerospace distributors and offers their customers access to vital information through the Technical Support portal. "We listened carefully to the needs of our customers," said Alfonso. "Every aspect of our website, from the technology to the user experience, has been considered. The new site has been designed to promote speed, functionality, and ease of use." The site is also mobile responsive and functions well with either a phone or tablet device.
About Champion Aerospace:
Over the past century, Champion Aerospace has earned a global reputation for high quality and performance-proven aviation solutions. Keystone products like Champion-brand turbine engine exciters, leads, and igniters, as well as piston engine spark plugs, filters, and harnesses have been the drivers of Champion's success. Champion Aerospace's research and development facility in Liberty, South Carolina, provides the utmost in modern technology, design, engineering, testing, and manufacturing operations. Champion Aerospace is proud to be a truly made in the U.S.A. company. Through their dedicated efforts, numerous patents have been secured for products and systems that make aviation safer and more efficient.
LIBERTY, SC, June 10, 2015 – Champion Aerospace LLC. a wholly owned subsidiary of Transdigm Group announced today the signing of an exclusive distribution agreement with Aero Precision. The agreement includes all military product lines exclusively supporting foreign operators. Champion Aerospace designs and manufactures a comprehensive line of ignition system components, such as igniters, leads, exciters, spark plugs, harnesses, and magnetos; as well as power supplies in their facility in Liberty, South Carolina.
Transdigm Companies have enjoyed a longstanding relationship with Aero Precision, a Greenwich AeroGroup company. "We are proud to add Champion Aerospace products to our international military aftermarket support packages and pleased to distribute Champion product exclusively to our customers" said Vice President of Aero Precision Ertugrul Turhal.
Champion Aerospace President Jason Marlin added, "By appointing Aero Precision as our stocking distributor, international operators of military aircraft are assured that Champion Aerospace products will be available from stock or at a reduced lead time. Aero Precision's international focus and presence will bring great support and value to Champion Aerospace military and defense customers abroad.
###
About Champion Aerospace LLC
Champion Aerospace LLC, a wholly owned subsidiary of Transdigm Group, is a leading global designer, producer and supplier of aircraft ignition system technology and airfame power solutions for use on nearly all commercial, piston and military aircraft in service today. Champion ignition components powered the Wright brothers first powered flight in 1903 and have continued to power the skies ever since. News and information are available at www.championaerospace.com
About Aero Precision
Aero Precision is a leader in aerospace distribution and services and a premier worldwide stocking distributor of aircraft OEM parts. With over 20 years of reliability, quality products and customer service, Aero Precision facilitates the purchasing and R&OH process by sourcing all military aircraft parts requirements under its unique logistic support model. Aero Precision has sole stocking distribution agreements with Honeywell, UTAS (Hamilton Sundstrand), Crane Aerospace, Texstars, CEF, Woodward, Parker, Pall, Circor, Eaton, Marvin Test Solutions, ViaSat, Zodiac Aerospace and other strategic OEM partners for various product lines and supports 60+ countries worldwide. News and information are available at www.aeroprecision.com.
About Greenwich AeroGroup
Greenwich AeroGroup Inc., owns and operates providers of general, commercial, government and military aviation services including: maintenance, avionics and interior refurbishments; fixed base operations; aircraft sales, charter and management; manufacturing; component repair and overhaul; parts distribution and financial services. Current locations include: Aero Precision Industries, located in Livermore, Calif.; DAC International, located in Austin, Texas; Professional Aircraft Accessories, located in Titusville, Fla.; Professional Aviation Associates, located in Atlanta, Ga.; NASAM, located in South San Francisco, Calif.; Summit Aviation, located in Middletown, Del.; TruAtlantic Mfg., located in Kernersville, N.C.; and Western Aircraft, located in Boise, Idaho. Additionally, Greenwich AeroGroup owns an interest in Helivia Aero Taxi located in Rio de Janeiro. News and information are available at www.greenwichaerogroup.com.
CONTACTS:
Rick Bush, Champion Aerospace, 864-843-5317